Smart outdoor lights can be useful throughout the backyard or garden, with choices to light up pathways, improve security, brighten up hangout areas, or add accent lighting. Smart options are now plentiful and come in almost every outdoor lighting type, from practical path lights and security lights to decorative string lights and musical wall lights.
Since they can connect to a smartphone, these lights offer ultimate control and make it possible to take advantage of a range of features, without even needing to step outside. You can switch lights on and off; adjust brightness, tone, or color; set schedules and timers; control groups of lights; and more—all remotely. The best smart outdoor lights have many of these features and then some; they're practical, look nice, and are simple to control. Read on for the best smart outdoor lights to brighten outdoor spaces.
1. Philips Econic Outdoor Wall Light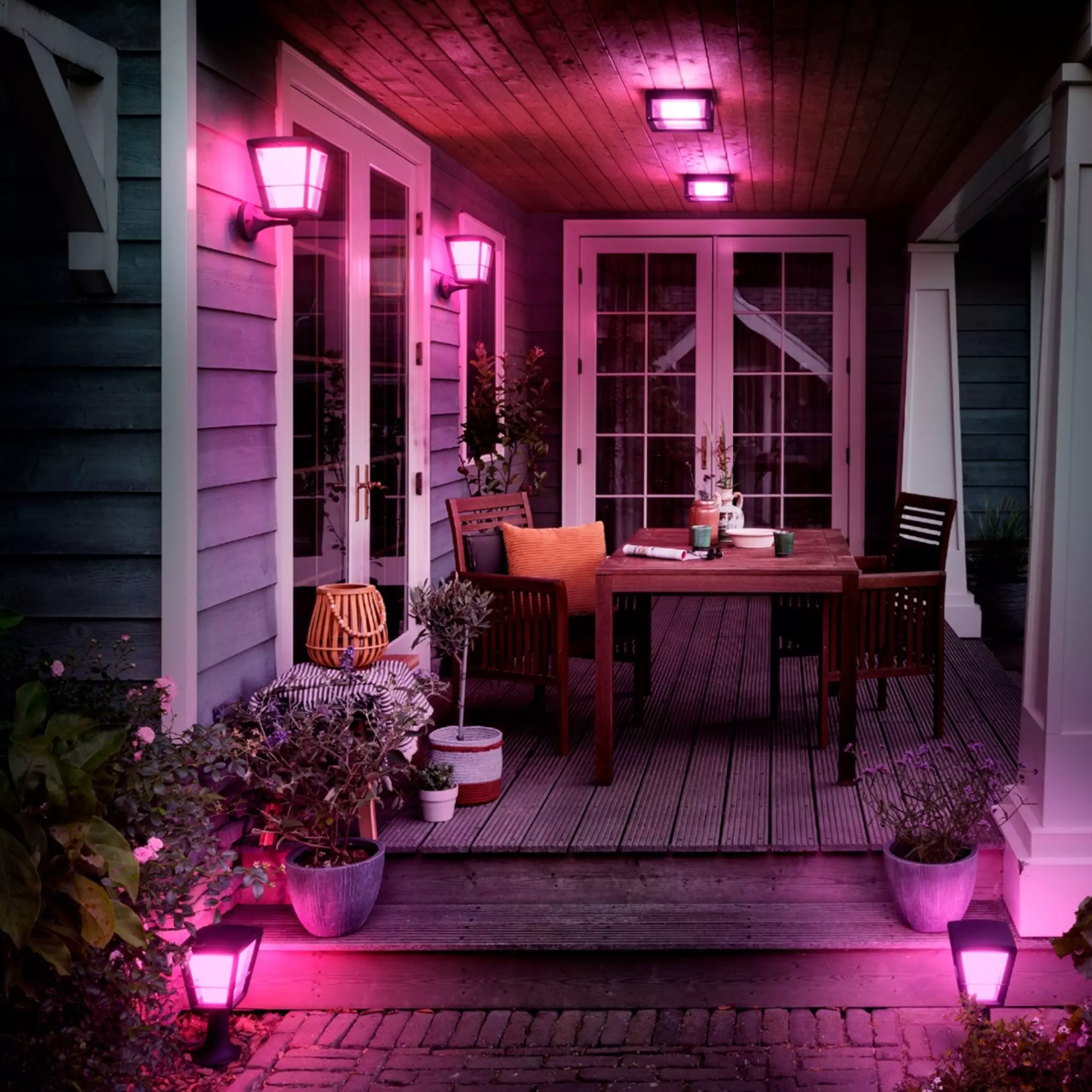 The Philips Econic outdoor wall light is a stylish, weatherproof choice for a front porch or beside an exterior door. It can be mounted to the wall or ceiling and it's hardwired, emitting up to 1140 lumens of light.
Like other Philips Hue products, this one requires a Philips Bridge. Once connected, it gives users control over all the smart controls, including light color (with 16 million color options, as well as all shades of white), brightness, temperature, timer, and schedule settings. This light is also compatible with Amazon Alexa, Apple HomeKit, and Google Assistant.
2. Govee Outdoor Pathway Light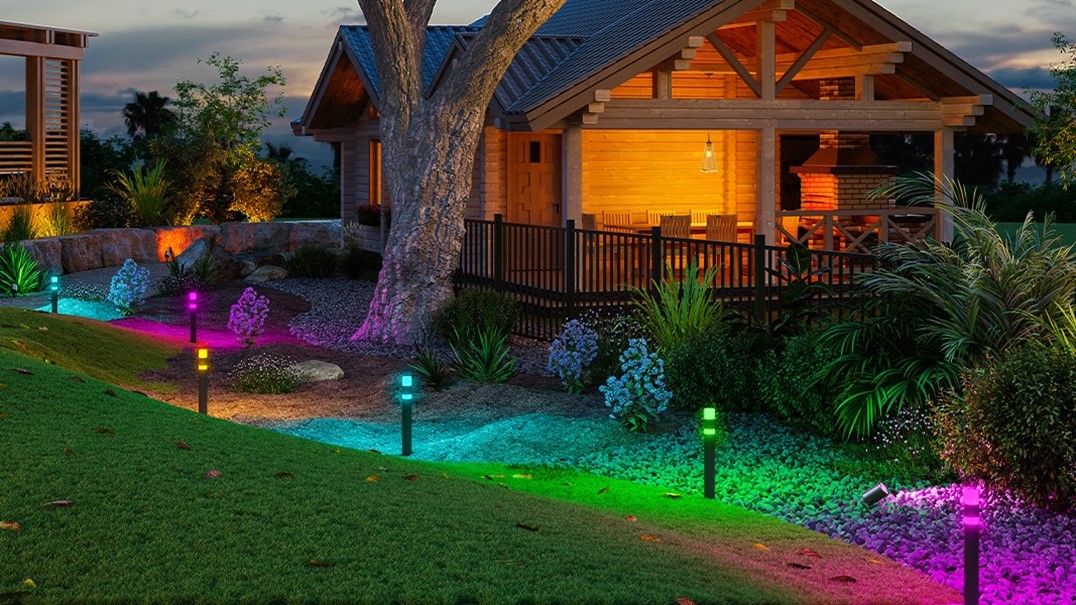 Light up the pathways to your backyard, pool, patio, and the front of the house with Govee's Outdoor Pathway Lights.These offer endless color possibilities with the ability to adjust each pathway light. And with the choice of more than 50 preset scenes, you can create a truly unique outdoor ambiance. The preset modes provide a unique look and can be set to match outdoor lighting conditions automatically.
There's also Music Mode, dynamic lighting effects that match the rhythm of the music that will help your guests get into a party mood while walking in. Complete personalization is available through the Govee Home app, while Alexa and Google Assistant provide hands-free control.
3. SOTTLOT Mela Solar Wall Light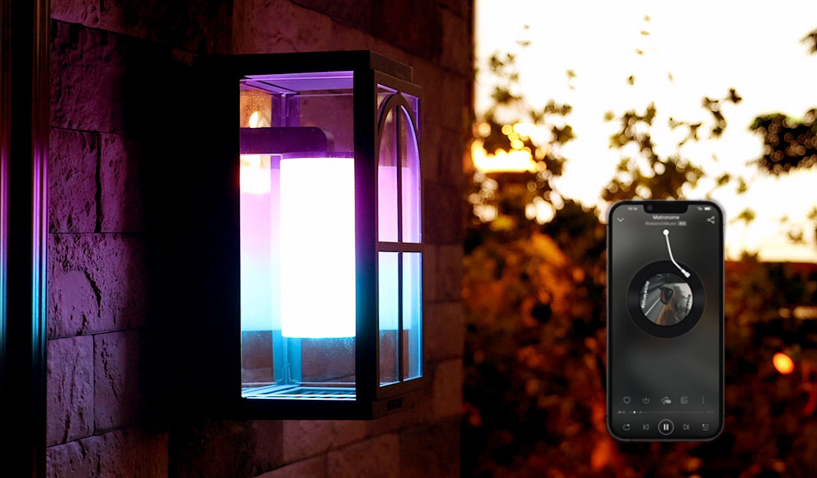 What sets the SOTTLOT Mela Solar Wall Light apart from other smart lights above is that it is powered by solar energy.
One fun feature of this light is its music modes, which use a built-in mic to sync the lighting to pulse to the rhythm, truly taking decorative lighting into a new level of party mode. Experience a symphony of vibrant colors that dance along with the beats, creating a mesmerizing visual spectacle. With support for 16 million colors, you can customize the ambiance to suit any occasion.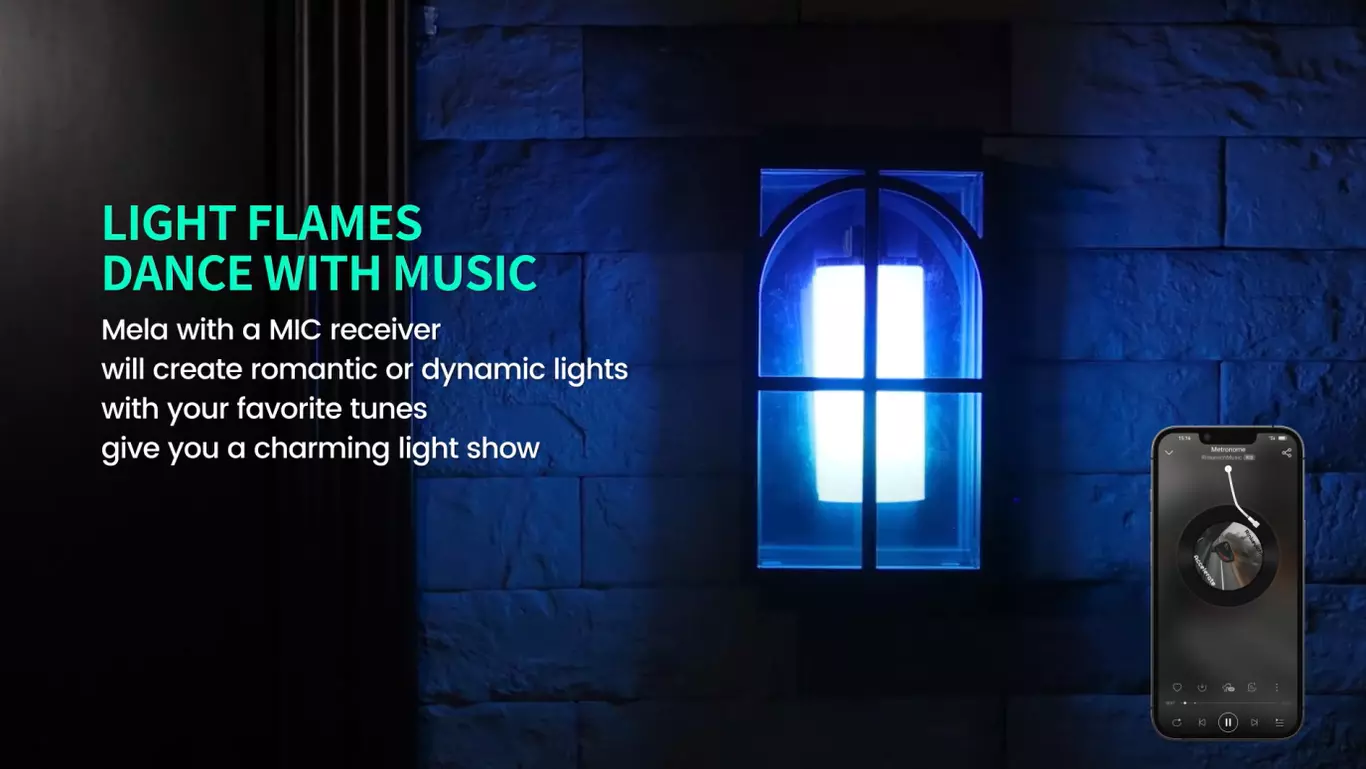 Adjusting the color temperature is a breeze with the SOTTLOT Mela Solar Wall Light. With a range of 2700K to 6500K, you can create the perfect warm or cool lighting to match your desired atmosphere. The light is also equipped with Adelot APP smart control, allowing you to effortlessly manage the settings, colors, and effects from your smartphone.
Upgrade your outdoor space with the SOTTLOT Mela Solar Wall Light that will bring magic and excitement to your outdoor gatherings. Whether you're hosting a lively yard party, a glamorous prom, or decorating for a festive occasion, this light is your ideal companion. Elevate your celebrations, create unforgettable memories, and transform your garden into a captivating wonderland with these extraordinary solar wall lights.
4. Philips Hue Lily Outdoor Spotlight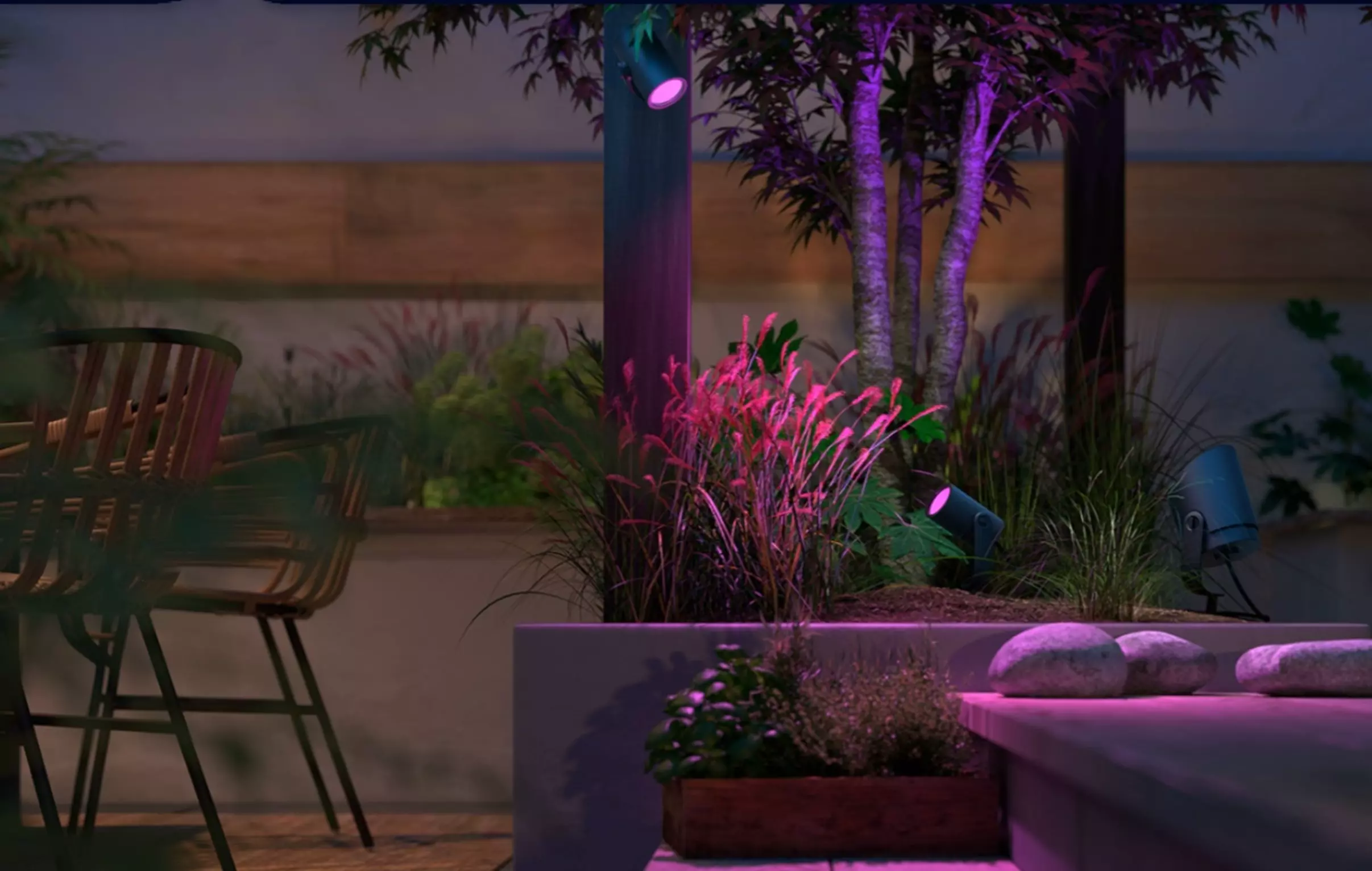 Versatility, efficiency, and smart home compatibility make the Philips Hue White and Color Ambiance outdoor spot light base kit one of the best outdoor lighting options for most situations. You get three spotlights with 16 million color options and dimmable white light, so you can create the ideal atmosphere for any occasion.
The base kit is compatible with smart home systems such as Amazon Alexa, Apple HomeKit and Google Assistant, which lets you add voice control seamlessly into your smart home setup. In addition to bright lighting even on the darkest night, this light boasts reduced energy consumption, making it an eco-friendly and cost-effective option.
5. Govee RGBIC Outdoor Strip Lights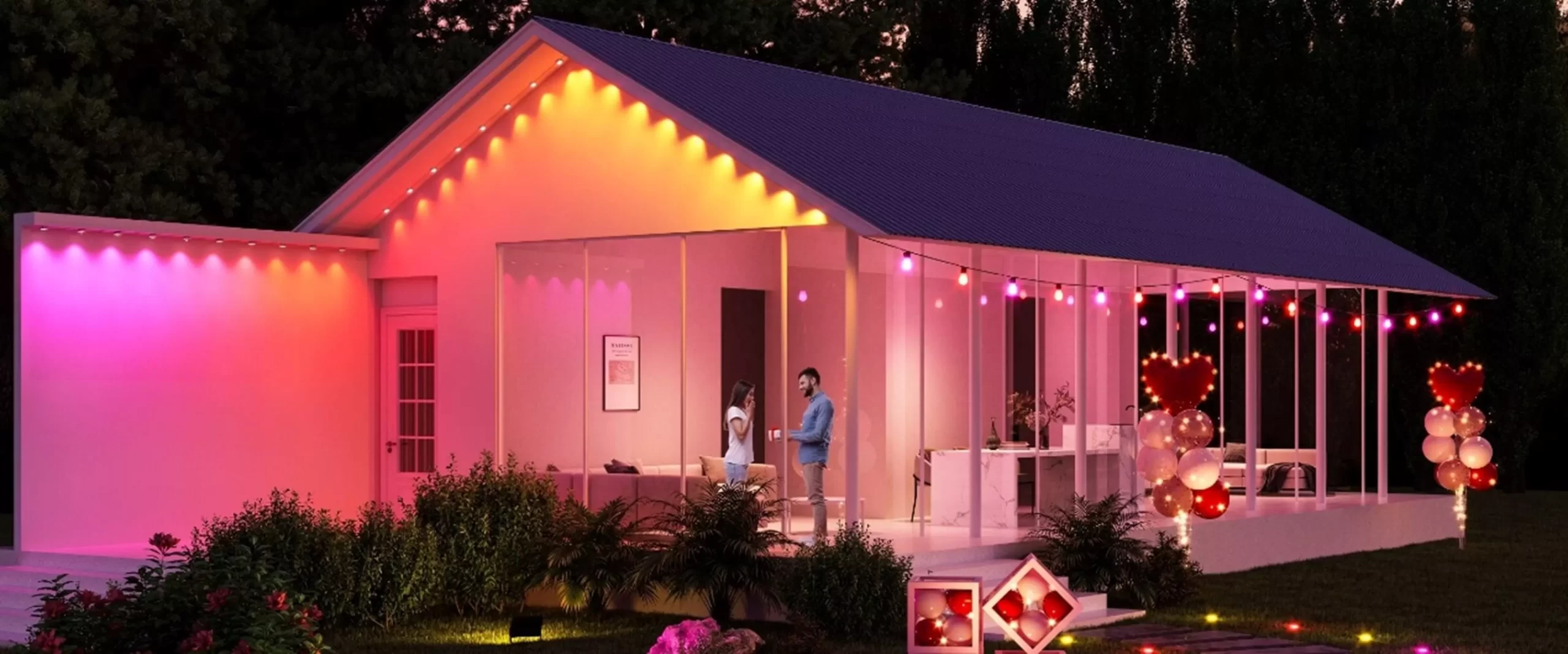 Strip lights are a fun way to add subtle lighting and color to an outdoor space, and a smart version adds even more flexibility when it comes to control. The Govee RGBIC outdoor strip lights are a user-friendly choice for year-round decoration. Wi-Fi is built in, so it can connect directly to a smartphone, and it's also compatible with Amazon Alexa and Google Assistant.
Plug these water-resistant strip lights into an outlet, and once connected, you can choose from millions of colors or over 60 preset scene modes, as well as set timers and schedules. Each light strip segment can have up to 15 different colors at a time, opening up even more room for creativity.